REPRESENTATION OF INJURED PEOPLE
Insurance Claims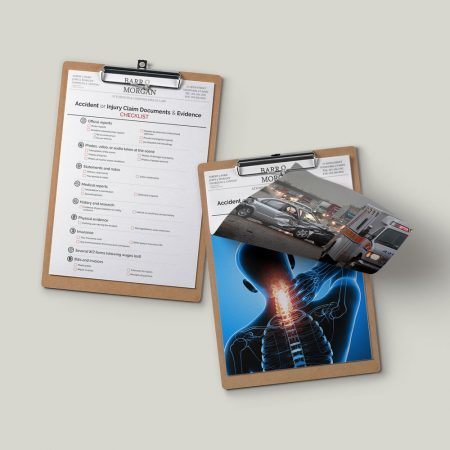 Do Not Take Chances With Your Case
Your claim is important. It may be your only opportunity to obtain payment for medical bills, recover lost wages, and obtain benefits which you and your family vitally need. You have only one chance to resolve your claim correctly. If you try to resolve your claim before your medical condition is fully diagnosed or without fully understanding your rights and responsibilities, your financial recovery will likely be less than you deserve. Worse, you may actually have to PAY money to someone else. That might be the government, medical providers, or insurance companies. You may also lose other benefits which might apply.
Once you make a settlement, you will likely be barred from any further relief. A quick settlement may not fully compensate you for any future medical conditions related to your accident and personal injury. Do not make a bad situation worse. Make sure you have adequate assistance before you settle your claim.
At Barr & Morgan, we provide full and comprehensive legal services to fully address your legal needs. Following an injury, we can:
Assist you through your treatment

Help coordinate your insurance benefits

Work to ensure your treatment, ambulance, hospitalization, physical therapy, homecare & other expenses are paid
Pursue your maximum compensation from all applicable insurance coverage

If necessary, pursue negotiation, mediation, arbitration & litigation on your behalf

Make sure that your settlement is fair to you & takes into account all of the benefits to which you are entitled
Insurance Coverage For Injuries
Insurance coverage for injuries, car collisions, and truck crashes can be extremely complex. Often, your own medical and auto insurance will be liable for expenses initially. Later, other drivers' and other parties' insurance coverage may apply. We can take care of you through the whole case, from beginning to end, and regardless of your injuries.
In addition to getting you the benefits you deserve, we make sure that you meet your responsibilities as well. There may be an obligation to repay benefits paid to you initially. Do not get trapped. Make sure you know what benefits are due and what benefits need to be paid back. Make sure you understand the relationship between medical or health benefits, workers compensation benefits, automobile insurance, liability insurance and state and federal laws and regulations.
We are experienced in a broad range of injuries, including:
Herniated discs & bulging discs

Back surgery

Whiplash

Quadriplegia, paraplegia & paralysis

Low back pain

Brain injuries, traumatic brain injuries (TBI), open head injuries & closed head injuries

Headaches, vision changes, emotional problems & cognitive issues
Shoulder & neck injuries & pain

Broken bones & leg, arm & knee breaks

Numbness, tingling & shooting pain

Soft tissue injuries, & injuries to connective tissue, tendons & muscles
FREE INITIAL CONSULTATION
Contact Us as Your Stamford, Connecticut Back Injury Law Firm
The Connecticut law firm you choose to handle your accident injury case makes a difference. From our Stamford office, we represent people all over Connecticut so if you have questions following a car or truck accident or after injuries, from herniated discs to brain injuries, make us your Connecticut herniated disk attorneys. If you have questions regarding personal injury or wrongful death law, contact our firm.
We speak Spanish, & are available for evening & weekend appointments & hospital visits. Our offices are conveniently located on 84 West Park Place in Stamford, & we have off street parking. Contact Barr & Morgan today at 203-356-1595 for a free initial consultation.